Hi,
I will continue to explain Oracle Exadata database machine in this post.
Read first article before this.
https://ittutorial.org/exadata-tutorial-x8-oracle-database-machine-1/
Physical Exadata components in a cabinet are as follows.
Database Server
Storage Server (Cell Server)
Infiniband Network
The layout map of these physical components is as follows in the 42U Exadata cabinet.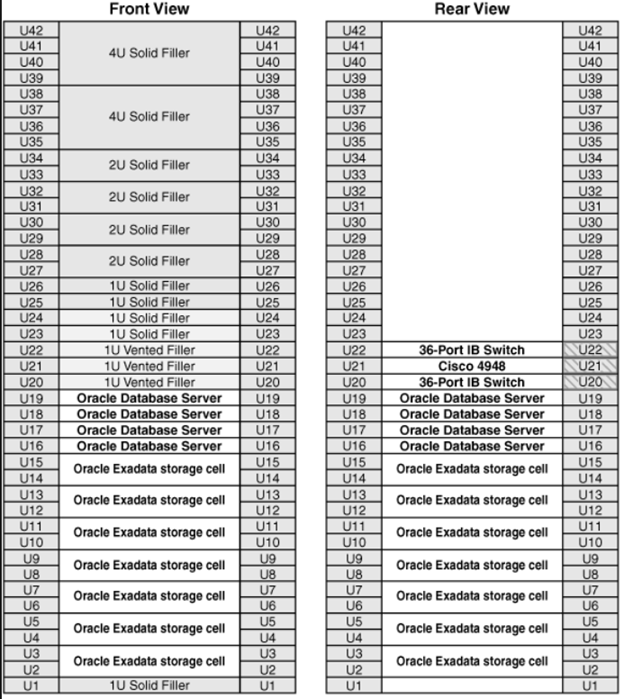 We said Exadata Exadata insistently, Well Why should I buy it ?
The advantages of Exadata compared to non-Exadata are as follows.
Integrated System: When purchased, Database server comes with hardware and software installed for the optimum operation of Oracle database with Cell Server and Infiniband.
One of the reasons why it is preferable from Customer side to see a single vendor in case of software and hardware problem.
Scalability: One of the main reasons that Exadata is purchased by all medium and large scale institutions is that it can be scaled. In other words, Lets think that your company is not big and you don't want to buy Full Exadata, you can start with 1/8, which is the smallest model. Company Growth is more than you guessed, then you can upgrade to 1/2 or full exadata. Or 1 cabinet exadata is not enough, you can consolidate exadata cabinets and they will run like one Exadata.Oracle can consolidate you up to 8 cabinets. So 8 Full Exadata can work as a single exadata. This means that around 10Petabyte of raw storage, 2000 of CPUs and about 50 Terabytes of Memory for your company.
Consolidation:  Exadata provides Consolidation of databases running on more than one distributed server , thus you can reduce the cost of licensing and management. You can migrate multiple databases to Exadata and work together to minimize licensing, hardware, backup and management costs thanks to the I / O Resource manager of Exadata.
Compression: Exadata Hybrid Columnar Compression feature allows you to compress your old or archive data up to 40 times. So You can save up to 40 times from storage. In the tests I have personally done in the customer, I saw compression of 20-30 times, which is a tremendous value. Think of your old bills table of 40TB or CDR data, backing it up a matter of a problem. When you compress these Tables with HCC, you can compress them to 1-2TB. Both are very simple to be backed up, and also have earnings from Storage.
High availability: Exadata comes with at least 2 node database servers, and because RAC is in structure. You can continue to work without interrupting any other node when there is an unwanted situation and you don't lose your data when there is also a redundancy in the Storage side.
Bandwidth: In the Exadata machine, Data transfer between Database server and the Storage server can be done with the Infiniband switch. This means a large amount of data transfer compared to non Exadata systems.
Smart Scan, Storage Index: Unlike other non Exadata servers, Exadata is faster than traditional systems because of the fact that when a query is executed, Storage index and smart scan feature find only data block it is looking for and bring it to memory.
Exadata can be in 4 categories as 1/8, 1/4, 1/2 and Full cabinet according to different size and configuration.
Exadata 1/8 and 1/4 inside of the cabinet looks physically the same as 2 Database Server, 3 Storage Server.  Half of the CPU is disabled in the 1/8 Exadata's and half of the disk is not activated in the 1/8 configuration Exadata according to 1/4 Exadata.
There are 4 Database Servers and 7 Storage Servers in Exadata 1/2 Cabinet.
There are 8 database servers and 14 Storage servers in a full Exadata cabinet.
These quantities are the default values in the standard cabinet and one or more node Database or Storage Server can be added if desired.
Do you want to learn Exadata detailed, then read the following articles.
https://ittutorial.org/exadata-tutorials-oracle-magic-database-machine-exadata-lessons/ 
Do you want to learn Oracle Database for Beginners, then read the following articles.
https://ittutorial.org/oracle-database-19c-tutorials-for-beginners/